Les Simpson, famille américaine moyenne, vivent à Springfield. Homer, le père, a deux passions : regarder la télé et boire des bières. Mais son quotidien est rarement reposant, entre son fils Bart qui fait toutes les bêtises possibles, sa fille Lisa qui est une surdouée, ou encore sa femme Marge qui ne supporte pas de le voir se soûler à longueur de journée.
(S029E011) Previous Episode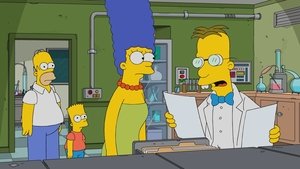 Aired On 2018-01-14
Mr. Burns will build a doomsday ark after he believes that the end of the world is near when he sees an old Orson Welles show about Nostradamus. Meanwhile, Professor Frink comes up with a new way of testing everyone in Springfield after Burns wants a test to determine who should go on a spaceship with him.
Next Episode (S029E012)
Airs On 2018-03-11
Sorry, we don't have a plot summary for this eposide yet.